Therapeutic Body and Facial Massage
Give yourself the gift of wellness & make Therapeutic Massage / Bodywork a regular part of your life.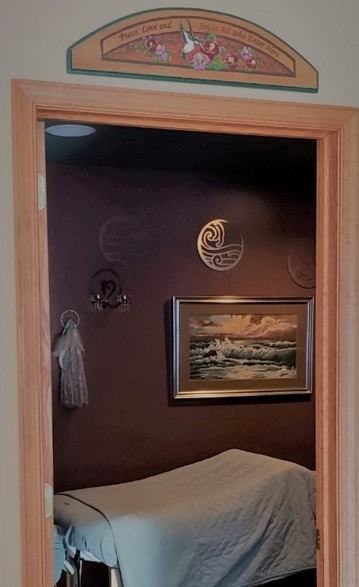 I talk through my hands & my heart to soothe both your body & your soul.
With over 25 years of experience as a licensed massage therapist, I believe massage bodywork is one of the very best things you can do for yourself. A massage will relax you, but did you know a therapeutic massage can improve daily performance, aid recovery, help prevent & heal injuries, reduce stress and even enhance metabolism and circulation?
As a trained massage therapist I can help resolve muscular tensions and imbalances before they become a painful issue. Therapeutic Bodywork is preventative care not just a "luxury" you treat yourself to once in a while. Today's hectic lifestyles can take a toll on your health by leaving you emotionally and physically stressed. Research has shown that chronic stress can lead to multiple health problems. Fortunately, the body can be very forgiving and the many benefits of therapeutic massage will help to counteract the effects of stress on your body.
I specialize in Deep Tissue Therapy but I strive to offer the best possible individualized massage to each of my clients in a safe, warm and friendly environment, using various modalities including Anti-Cellulite Massage and Anti-aging Facial Rejuvenation Massage.
**The services of a bodywork professional may be covered by health insurance when prescribed by a chiropractor or osteopath. Therapies provided as part of a prescribed treatment by a physician or registered physical therapist are often covered. Please check with your insurance provider.**
Please contact me for an appointment
(570) 664 - 1990